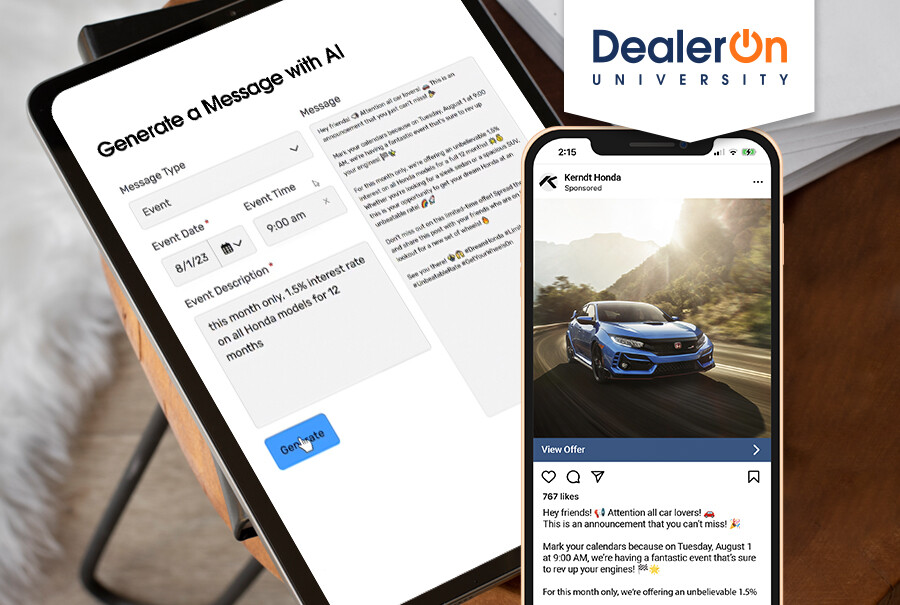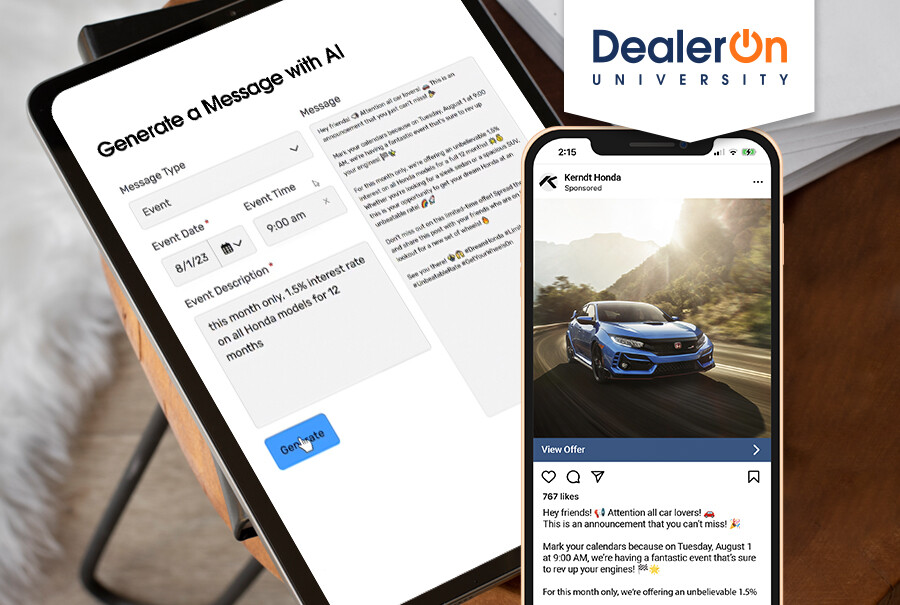 DealerOn's Advanced Listings Manager, now with Generative AI, revolutionizes content development and management for automotive dealers. Our powerful toolset streamlines the process, enhancing user experience and bolstering our SEO support program for improved visibility and performance in the competitive automotive market.
Advanced Listings Manager is now equipped with Generative AI, giving you the power to quickly create high-impact social media content for your dealership.
Generative AI is an exciting new technology that automatically creates content based on prompts from a user and is already being leveraged in various forms across many industries. The world of digital marketing is no exception, and at DealerOn, we have harnessed it for a powerful new feature in Advanced Listings Manager.
DealerOn's AI-enhanced Advanced Listings Manager revolutionizes social media content management. This is a solution that adapts to your needs, an intuitive toolkit that creates compelling content for your social channels. Paired with our Managed SEO Services, our platform goes beyond typical content management systems and becomes your partner for digital marketing success.
Put Our AI Technology to Work for You
You have a specialized skill set honed by years of experience in the high-pressure world of automotive sales. As important as your social media feeds are to your marketing presence, these routine but essential tasks are better off in other hands. Enter Advanced Listings Manager.
Not only will Advanced Listings Manager's Generative AI feature save time, it will increase the effectiveness of your content management. You can create and optimize your content with minimal effort, while engaging your audience more effectively. The AI enhances your overall SEO by optimizing content for prime online visibility.
In other words, our AI technology will automatically create eye-catching social media content that will generate more traffic and attention for your website. You'll gain a user-friendly, intuitive platform that effectively leverages the power of AI for smart content management on major social media platforms. Optimize your messaging, improve your SEO outcomes, and gain a competitive advantage in your market.
How It Works
Content creation is a part of any effective SEO strategy, but it can be time consuming, and your time is at a premium. One of our goals at DealerOn is to return as much of your time as we can while maintaining a robust marketing presence, so that you can leverage your expertise on what you do best: selling vehicles and providing top-notch care for your customers. The Social AI feature in Advanced Listings Manager is part of this larger initiative.
With it, you can automatically create posts for your various social media accounts from a single location on the Listings Manager app. Creating an attention grabbing social media post with Advanced Listings Manager is incredibly easy:
Choose what kind of message you are posting; a standard post, promoting a product or service, or notifying customers about an upcoming event.
Define your parameters, such as the specific product or service, or event dates and times.
Adjust the tone of the post from standard to casual to funny.
Listings Manager will take this information and generate a high-impact post for your social channels. You can post the message immediately or schedule for precise deployment in your social media strategy.
Next-Gen Social Media Marketing
Automotive retailing is a zero-sum game. Customers that don't buy from you aren't going to have their automotive needs met; they're going to go to your competition. Our Advanced Listings Manager's Generative AI gives you the competitive edge by delivering innovative content strategies that set you apart and drive leads where they belong: to you.
Do more with less: Generative AI takes the effort away from crafting compelling social media content. Our advanced algorithms generate tailored content suggestions, which saves you even more time, and further streamlines your workflow.
Enhanced user-experience: Deliver personalized, relevant social media content to your followers. Captivate your users with fresh content on a reliable schedule and increase both your engagement and conversion rates.
Give your SEO a boost: Higher-quality social content benefits your SEO efforts. Drive organic traffic and improve your search engine rankings while you're upping your content game.
You don't have to gamble on your dealership's future. DealerOn has a proven track record of delivering outstanding results. We rigorously test every new feature, ensuring that every product we ship is optimized to grow your business and deliver more leads. Our dedicated support team is highly trained in all our products and is available to help every step of the way.
Get Advanced Listings Manager Today
DealerOn's Advanced Listings Manager empowered with Generative AI streamlines social media content development, enhances user experience, and gives you the tools to dominate the automotive market. Content creation across a variety of platforms is a fact of life in your market. Create better and smarter content with Advanced Listings Manager.
Schedule your Advanced Listings Manager demo today. We'd love to show you all the incredible things you can accomplish with Advanced Listings Manager. You won't know how you got along without it.
---