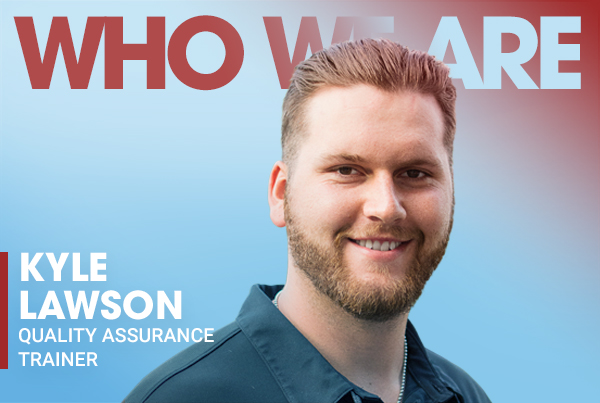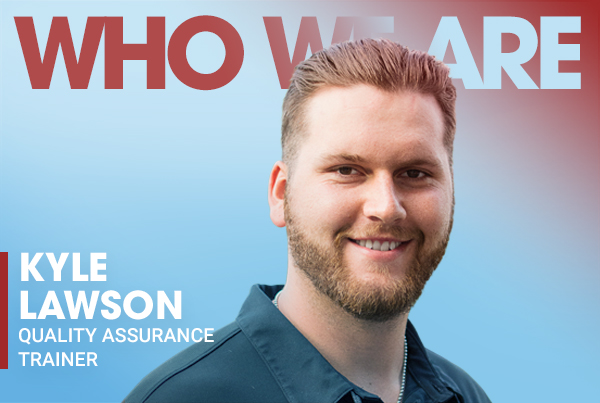 In this edition of our Who We Are series, we shine the spotlight on Quality Assurance Trainer, Kyle Lawson. Kyle and the rest of the Quality Assurance Trainers Team work tirelessly to ensure DealerOn provides top-notch customer service to our clients. Read on to learn more about Kyle and the crucial role his team plays at DealerOn.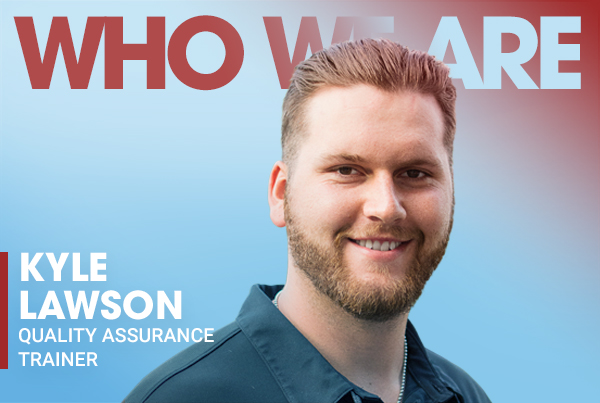 What team are you on and what is your role at DealerOn?
I am on the Training & Development Team, and I am a Quality Assurance Trainer.
How does your team & role contribute to the success of DealerOn?
Our team of Quality Assurance Trainers is a newly developed team that was created to work alongside our Onboarding Training Team to further develop the knowledge of our new hires. We also review the quality of work that our customer-facing teams provide to our customers by completing monthly Quality Assurance (QA) reviews.
One of our main initiatives during this team restructure is to turn DealerOn into a learning organization. We want to ensure that, as a company, we are continuing to learn and grow.
What do you feel separates DealerOn from other players in the space?
DealerOn separates themselves by always looking for ways to improve. We are constantly evolving and looking for ways to provide quality customer service to go along with our quality products.
What do you enjoy most about working at DealerOn?
The DealerOn culture is my favorite aspect about working here. I really enjoy the camaraderie that we build amongst each other, not only within our specific teams, but amongst the organization as a whole. The work-life balance is also a great benefit. Our company has been able to adapt and thrive all while working in a remote environment.
If you could go back to your first day at DealerOn and tell yourself anything, what would it be?
Don't be afraid to get out of your comfort zone. Keep an open mind and explore all avenues that DealerOn has to offer. Stepping out of your comfort zone will help you learn and grow, not only personally, but professionally as well.
What is a fun fact about you that people don't know?
I played college baseball at Grand Valley State University. I was a starting pitcher until I had Tommy John Surgery in 2018. I came back as a fifth-year senior because I took a medical red shirt. After a quick turnaround, I became the closer. I had a great year earning all-conference honors as well as being recognized as a third team DII All-American.
What motivates you?
Seeing my personal and professional growth during my time here at DealerOn. It motivates me to continue learning and be successful.
The DealerOn culture is my favorite aspect about working here. I really enjoy the camaraderie that we build amongst each other, not only within our specific teams, but amongst the organization as a whole.

What are you passionate about?
I am passionate about the outdoors and spending time with my family & friends. I love hunting, fishing, and playing just about any sport. I also love to spend time with family & friends. I have a very close family, and we get together quite a bit.
What do you enjoy doing in your free time?
As previously mentioned, I love spending time outdoors. I play a lot of golf and slow-pitch softball in the summertime, and I spend most of the fall in a tree stand chasing after the allusive white-tailed deer.
If you could have a conversation with anyone from the past, who would it be and what would you discuss?
This is a tough question because I could go so many different routes. However, since archery season is just around the corner here in Michigan, I am going to go with Fred Bear. Fred Bear is known as one of the pioneers of archery hunting in North America. I would love to chat with him and get some tips in regards to hunting. I am sure he has a ton of stories that would be awesome to hear as well.
Who do you find inspiration from today?
I find inspiration from everyone in my family as they always push me to the best that I can be. They also provide me with advice and motivation when I need it. I also find inspiration from my fiancé'. She is always supportive and pushes me to be a better person.
If you could have any superpower, what would it be?
Any superpower would be awesome! However, if I had to choose one, I would probably choose the ability to teleport from place to place. It would take out travel time and the stress that comes along with travel. I'm also notorious for being a few minutes late on any occasion, so teleportation would save me there as well.
---