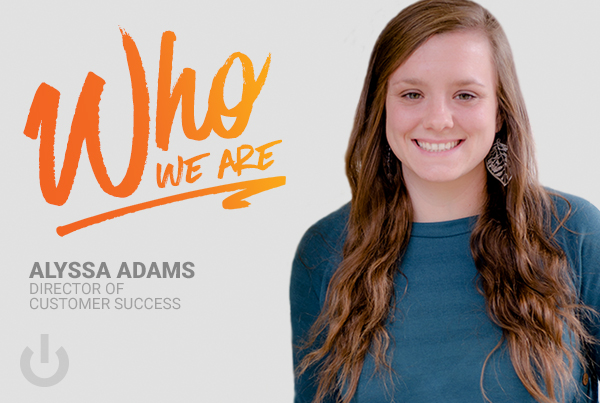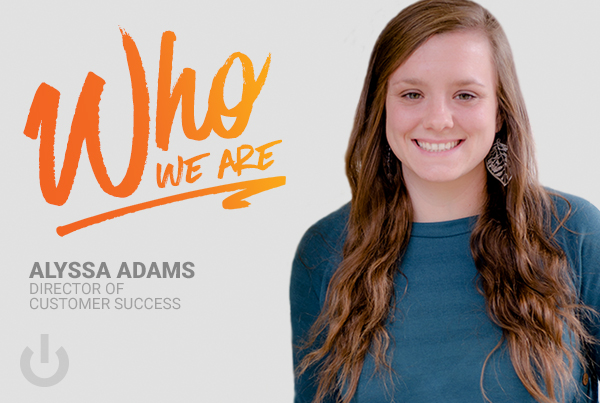 We were lucky to be joined by a couple of DealerOn All-Stars for this week's Who We Are; Alyssa Adams, Director of Customer Success, and The Official Good Boy of DealerOn, Moose.
What team are you on and what is your role/job title?
I am part of the Customer Success Team out of Michigan. My role is the Director of Customer Success and we are here to provide excellence in customer tooling and strategy.
How does your team/role contribute to the success of DealerOn?
Our team is responsible for developing healthy relationships with our customers by enhancing their experience with our platform and providing excellent customer service. We are here to advocate, innovate and service our customers.
What do you think makes DealerOn different OR what sets DealerOn apart from other players in the space?
Our whole organization from the Executive staff, to Customer Support and Product Owners all truly care about our customers. We are there hand-in-hand for all of the ups and downs. We don't back down from a challenge, and want all of our clients to be the best. When they are struggling with sales in a given time month, we roll up our sleeves and go to work. I think what sets us apart is that we advocate for a partnership with our Customers.
What do you like most about working at DealerOn?
I love that DealerOn offers the ability to keep learning day in and day out. There is a lot of knowledge and new skills to acquire at an innovative, fast paced environment like ours and I enjoy the rollercoaster of a ride. Not only focusing on the tangible skill sets but also the intangible skills such as exploring curiosity, self-awareness and optimism. Outside of learning, I think most people will agree, it's the team that surrounds us. This seems like a cop out of an answer but I have made my life-long friends at my time here in DealerOn.
"If you hang out with chickens, you're going to cluck and if you hang out with eagles, you're going to fly" – Steve Maraboli
What is a fun fact about you that people don't know?
One fun fact about myself is that I grew up with raising chickens. I believe it was second grade that we had chicks as a classroom "pet" and at the end of the year, the teacher was looking for a permanent home in which I begged my Dad 😊 Highly recommend it, fresh eggs are incredible!
Who or what motivates you?
Who motivates me changes daily but what motivates me are individuals or teams that are out cultivating a safe, hard working, dynamic environment to better each other. I am motivated by new opportunities and open minded folks who want to learn from others perspectives and experiences and never shy away from this method. In terms of our line of work, our customers motivate me. We hold daily conversations on how we can take our product today and continue to transform ideas that haven't been brought to market yet based off of their experience and expertise.
What are you passionate about?
I am very passionate about uplifting others as well as animals. Moose, my (DealerOn's) Chocolate Lab, has been a team mascot since he was eight weeks old. Knowing the love and comfort I have received in the past from animals and my background in Psychology, I wanted to find a way to help others in the work environment I was in. I am grateful that DealerOn allowed Moose to act as an office dog over the years. Mr. Moose has jokingly been named Chief Happiness Officer (Dog) and has visited all three office spaces (MI, TX and MD).
Who inspires you? (present day)
Steve Maraboli, an influential psychologist who specializes in Behavioral Psychology. Behaviorism is the theory that we learn through our interactions with the environment we are in and create. That concept is fascinating to me. Not only is this fascinating from a personal development juncture but furthermore into how this can shape business practices and team development in which Steve's expertise comes into play.
In his book Conflict Recovery, he advocates for leaders to move away from Cultural Competence and towards Cultural Humility. He expresses that it is naïve to think one process, one way, one person is competent and proficient. He rather encourages that we, as leaders, must be willing to learn and make adjustments in order to improve our own cultural humility. Steve weighs heavily into the fact that culture changes and shifts with every generation and is nuanced as people grow and learn new ideas and new ways of being.
At DealerOn, in the Customer Success Team, we do our best to embody Steve's frame of work as we are growing at a precipitous pace. We value every voice within our team, our organization as well as our partners and customers. He inspires me to have the benefit of the doubt, to agree to disagree and respect the visions and thoughts of others.
One of my favorite quotes from Steve is "If you hang out with chickens, you're going to cluck and if you hang out with eagles, you're going to fly".
Do you have any serious hobbies or interests outside of work? What do you like to do in your free time?
If I am not enjoying my time with my family and friends, you can most likely find me outside. Health and fitness are very important to me so I like to make time for exercise through bike rides, sports, running and hiking. I really enjoy taking time to go backpacking. My favorite trip to this day would be out in Bitterroot National Forest in Montana with my sister and two college friends.
Do you have any unusual phobias?
I would go with ornithophobia, fear of birds. A little ironic with my passion with animals and the outdoors, however, I've had a few negative experiences involving birds and aggressive behavior that I often find myself ducking if they are coming my direction.
If you could have any superpower what would it be?
Hands down, no question underwater breathing. Anyone who knows me well can attest that I love the water and exploring new places. One life time goal I have is to explore the bottom of the great lakes along with different oceans. Considering that upwards of 80% of our ocean is unmapped, unobserved and unexplored is exhilarating to me but also terrifying.