Click here to learn more about the new Digital Dealer Solutions program and how DealerOn can take your business to the next level TODAY.
LEARN MORE
With our award-winning car dealership websites, automotive SEO,
and automotive PPC, you'll get more leads and sell more cars.
With our award-winning car dealership websites, automotive SEO, and automotive PPC, you'll get more leads and sell more cars.
We provide dealers the highest-converting websites, most comprehensive SEO, and the most advanced end-to-end digital advertising solutions in automotive. We use data, testing, and optimization to help our dealers sell and service more cars, more profitably.
Focused on conversion
DealerOn is focused on what matters most: getting you more leads and more sales.
Focused on performance
All of our products are built for speed so your customers don't have to wait.
Industry thought leaders
We are industry-recognized thought leaders in the digital retail automotive space.
Full transparency
We openly share all aspects of our product performance with our dealership clients.
Lead guarantee
Website and digital advertising services are covered by a lead increase guarantee.
Award-winning support
With a 99% Driving Sales rating and many industry awards, our support is second-to-none.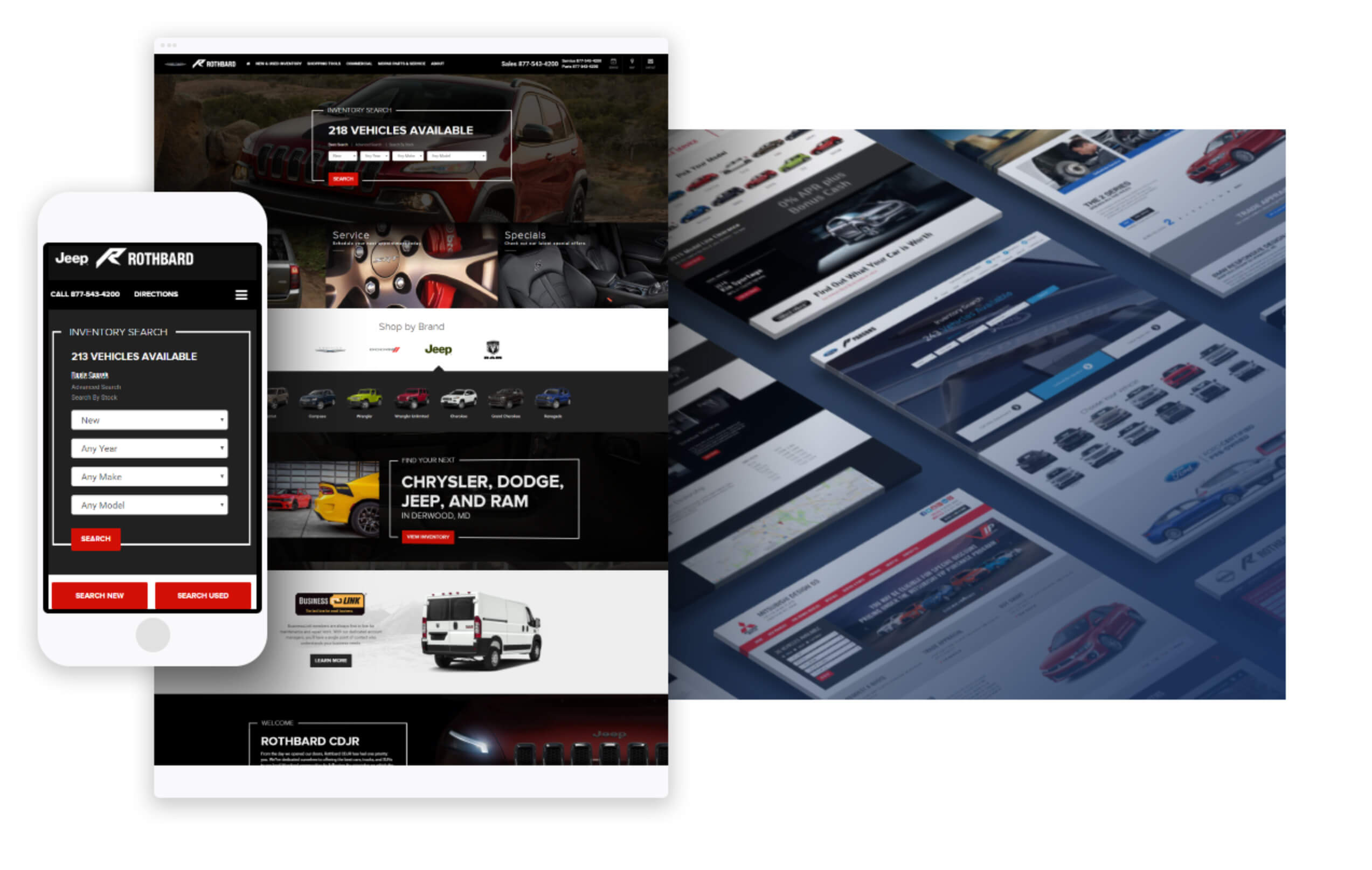 Maximize your leads on the award-winning website platform with guaranteed results
Maximize your leads with the highest-converting website platform in the retail automotive industry. Give your customer the best experience possible anywhere, anytime with the responsive technology that we pioneered for the automotive industry. Add additional features and services to further increase your leads.  Document your leads with our team during the on-board process so you know exactly your ROI on your investment in a DealerOn website!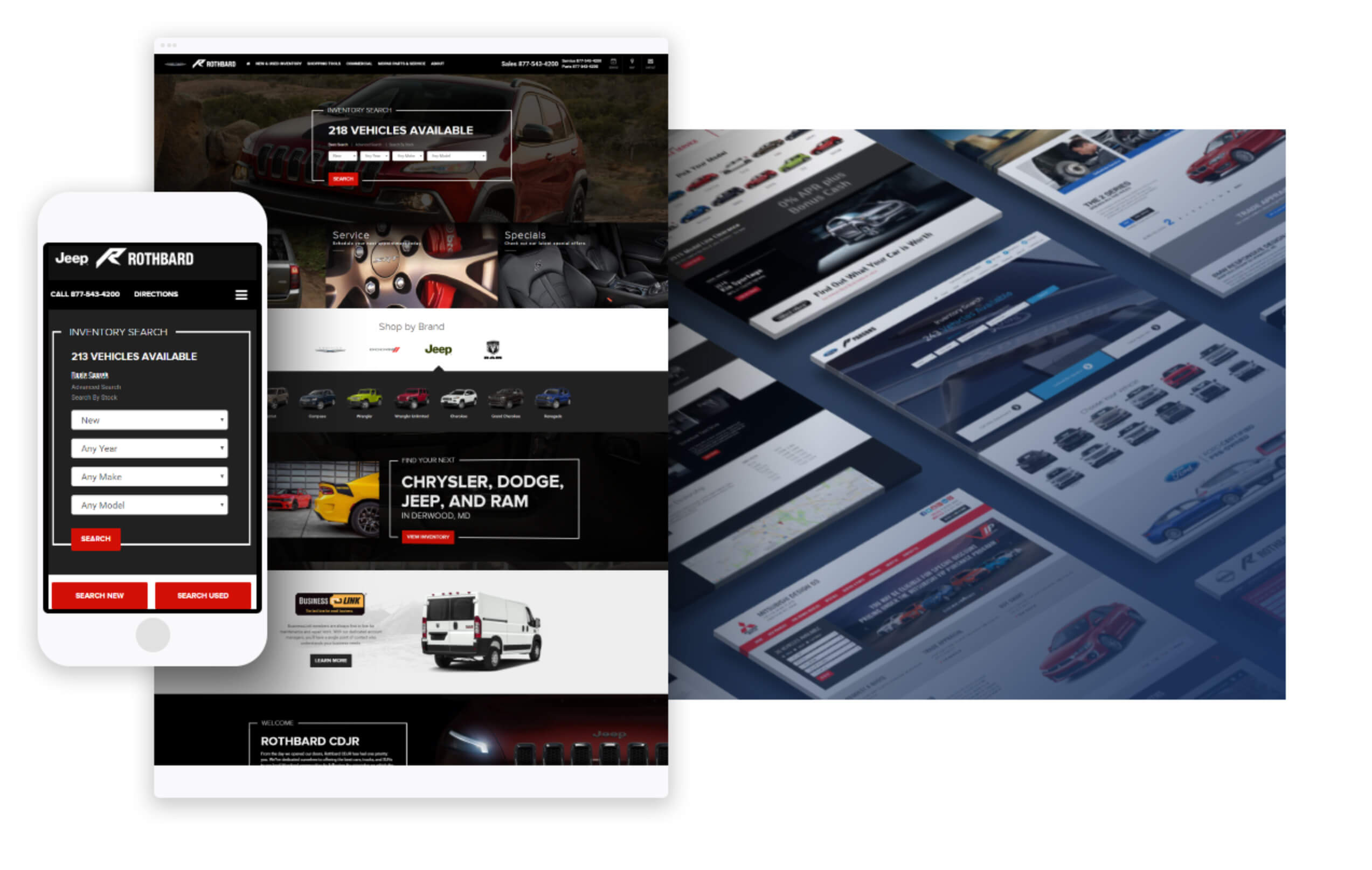 Make sure your website is present for every relevant local search with DealerOn's Elite SEO Service.
90% of Car Shoppers use Google to research their purchase, and because Google is always updating and improving their automotive search results, you need a team of experts dedicated to one goal: keeping your site at the top of Google's rankings for local car buyers when they search for your dealership, your brand, your vehicles or your service department. DealerOn's crack team of local SEO gurus strategize, and execute, and manage ongoing, comprehensive, thorough search engine optimization for your dealership. Let us do our SEO magic, while you do what you do best – Sell and Service cars!
Digital advertising that gets results, guaranteed. We'll show you the sales.
When we combine our partnerships with Google, Bing, and Facebook and our complete end-to-end conversion solution, leveraging our top-converting websites, DealerOn routinely increases our Digital Advertising clients leads and sales by 50% or more.  We don't just talk about results, we're ready to put our money where our mouth is and offer a 25% lead guarantee. If we can't increase your leads in three months by 25% you get your management fee back. No questions asked.
Experience the DealerOn Difference
Award-winning customer service.
At DealerOn, we are laser-focused on two things: helping our dealers sell more cars, more profitably than anyone else can, and providing our dealers an amazingly remarkable experience as we help them set sales records. That's the DealerOn difference.
99% customer satisfaction rating
We want it to be as easy and relaxing for our dealers to sell and service more cars than ever before with our help.  You aren't a number in a queue or an email address to us, you are our partner and we are committed to giving you the best, one-of-a-kind customer experience possible, and we've got the ratings to prove that we do it!
LEARN MORE
DealerOn Delivers Results
+150%
average increase in monthly leads
"DealerOn's focus on data, analytics, and optimizing our digital marketing has provided an enormous increase in leads."
BRIAN WILLIAMS
Vice President of Marketing
Hendrick Automotive Group
+56%
average increase in monthly organic traffic
"I've been promised incredible results from a multitude of SEO providers, but I've only had one that delivered: DealerOn."
CHRIS VESTER
Chief Operating Officer
Hubert Vester Automotive Group
+120%
increase in leads per ad spend dollar
"We're getting about 120% more leads for every dollar we spend on Google with DealerOn's paid search service."
PATRICK COLEMAN
General Manager
Jim Coleman Automotive Group